Pasta
I saw a tweet from a friend who loves to cook at home and to eat out. He said that his family hadn't eaten food prepared elsewhere since March. I've seen similar posts from others.
Anyway, one of the things I miss is the ability to be in the mood for something and stop by the grocery store and look at what looks good or shop to fill out the list of items I need for a meal I want to make.
We're doing a lot of, "well, what do we have" meals. So yesterday I had some nicely colored pasta, some ham left-over from a bean dish I made a few weeks ago, and some cream left over from some peach ice cream I made (which came out soooooo good).
Oh wait - here's how I did the ice cream. Take your base - I've been playing with different bases. This was from Salt and Straw but I'm sure any base would be fine. I then cooked down 3 pounds of really ripe peaches with a half cup of sugar. Maybe ten minutes or so on the stove and then blended using an immersion blender. Cooled the base and the peaches over night and then made ice cream with 1 cup of the peaches and then mixed in a second cup before freezing it.
The mixture was bland and the ice cream still soft when we tasted it so I mixed in the remainder of the peaches - probably 4-5 more cups - and froze the rest of the way. The texture is a little grainy but the taste is so smooth.
Anyway, I was talking about leftovers. Here's the pasta I made.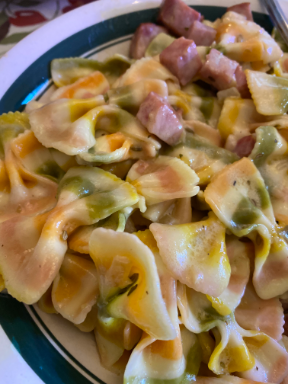 There are no rules - though I would have liked to have had some peas to add.
Marinade
2-3 cloves of garlic minced

1/2 a medium onion chopped fine

2 tbs butter

2 tbs olive oil

1/2 cup cream or more or less

thick slice of ham - or some portion of a slice

Some fennel and some parmesan cheese

Some bite sized pasta - I used a bow tie because that's what I had
Directions
Boil the pasta water when it's ready, salt it and add the pasta.

Melt the butter, add the oil, and start the garlic and onion in the pan

Add the ham. Cook it for a while

Add the fennel and some black pepper. If you have peas or corn add that too.

I was late on step 1 so this was cooking too long. I added some pasta water to the pan and it made this dish better.

When the pasta is ready, use a slotted spoon (or whatever) to add it to the pan and toss with the sauce. I added more of the pasta water at this point.

Add the cream and parmesan cheese. Toss a bit and serve.
Really, more accurate directions are - what do you have in the refrigerator. Prep that while the pasta boils. Mix it together and enjoy.