Tofu Noodles
The Bittman Project is a cooking project from Mark Bittman. In the first video released, Daniel Meyer cooks a tofu dish that looked really good so I adapted it for what I had.
I made a spicy crispy tofu and vegetables in pasta.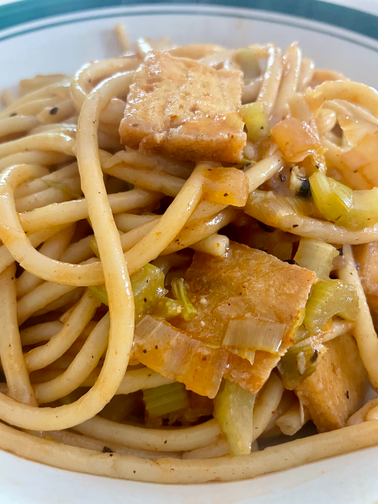 I suppose for color I could have added scallions on top or some red pepper.
It was quite tasty.
Ingredients
1 container of firm tofu prepared in advance

1 medium onion diced

Optional a leek or two. You could also use more onion sliced

3 - 4 ribs of celery sliced thin

3-4 garlic cloves

1 inch of ginger minced

Soy sauce

Xiao xing cooking wine

Sriracha
Directions
The tofu isn't necessary but it provided some protein and a texture contrast. Toasted nuts would have also made a nice addition and maybe I'll do that next time.
The first step was to dry some tofu so that it crisps up nicely.
Slice some firm tofu into 1/4" or narrower slices.
I arranged it on parchment paper on baking sheets in a 250 degree (F) convection oven and cooked it for a couple of ours flipping it half way through.
Meanwhile I cut up an onion, a few ribs of celery, a leek, three cloves of garlic and some ginger. I also had some fermented black beans so I minced them as well.
Oh and I cut up a jalapeno but I forgot to add it so I used it in a rice and beans dish I had going in the Instant Pot.
When the tofu dried I sliced it into 1" x 1" pieces. Heated up oil in a non-stick pan and when the oil was really hot I quickly sauteed the tofu.
They should blister and crisp up a bit. When they're done enough, remove them from the heat and put them in a bowl.
Put the pan back on the heat.
When it's hot add the onion, celery, and leeks and cook for five minutes or so until it begins to soften but isn't soggy.
I added some chinese cooking wine and tossed for a bit. Then some soy sauce and tossed a bit more.
Add the garlic, ginger and black beans and toss some more.
Add a healthy amount of sriracha and return the tofu to the pot and toss.
This would be good over rice - but I had some really nice italian spaghetti so I cooked it up and tossed it in the pan with the other ingredients so the noodles were spicy as well.