Mushroom Reuben
A mushroom reuben for St Patrick's Day!
I just signed up for my summer CSAs again.
We're months away from the fruit and vegetable from local farms in Northeast Ohio, but I am trying to cook less with meat with varying degrees of success.
I found a recipe for a mushroom based reuben in the Washington Post and made some very small changes to it.
I'm also testing rye bread recipes for a baking cookbook I'm writing so I needed to test two different loaves in a head to head reuben battle. Both stood up really well.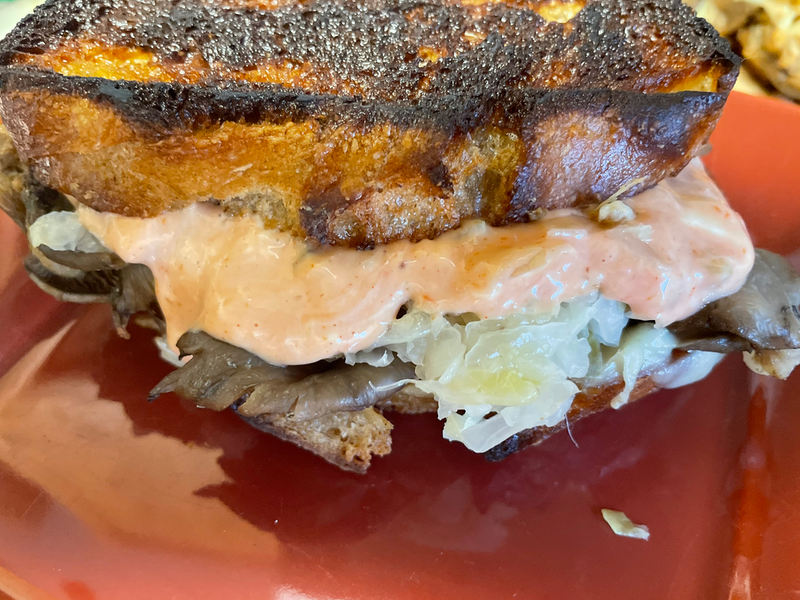 The recipe makes a lot of sense - instead of corning the beef, you use a lot of the same spices to corn the mushrooms.
For the dressing you can use Thousand Island or make your own.
Sauce Ingredients
1/4 cup mayonnaise
1/4 cup ketchup
1 1/2 teaspoons prepared horseradish
1/2 teaspoon paprika (I used smoked)
1 tablespoon pickle relish (I used sweet) or chop your own
Mix the sauce ingredients together, cover, and refrigerate.
Rub Ingredients
2 tablespoons Dijon mustard
2 teaspoons ground coriander
1 teaspoon mustard seeds
1/2 teaspoon kosher salt
1/4 teaspoon red pepper flakes
Pinch ground allspice
A few grinds of black pepper
Mix the rub ingredients together.
Additional Ingredients
Four slices of rye bread
Butter for the bread
Oil if you're sauteeing the mushrooms
Saurkraut
A couple of slices of Swiss Cheese
Mushrooms - the recipe called for a couple of portobella caps sliced thin, I used a pound of Oyster mushrooms from a local grower
Directions
The recipe from the post had you sautee the mushrooms in oil and cook until there's no visible moisture.
I spread the mushrooms on a sheet pan and cooked them at 212 degrees F/ 100 degrees C in a convection oven with steam until they had wilted and softened.
However you cooked them, lay them out and coat one side with the rub. I used a brush and painted it on the underside of the mushrooms. Already the smell reminded me of corned beef.
If you are sauteeing, heat some oil up in the pan and cook the mushrooms and the rub. I found the oven worked great. I cooked another ten minutes at the same settings.
Meanwhile I heated a pan over low heat and buttered both sides of the bread slices and put them in the pan.
When the bottom of the bread was toasty and delicious, I flipped them over. Put swiss cheese on two of slices. Top that with a stack of mushrooms - biting through layers of mushrooms will feel a bit like biting into sliced corned beef.
Top this with saurkraut and the other slice of bread.
Once the bottom bread is toasted, carefully flip the sandwiches and toast the other side.
Flip the sandwiches onto a cutting board. Lift the top slice and liberally add sauce.
Warning - this is a messy sandwich to eat but is on the list of things I intend to make again.