Carrot Reuben
A carrot reuben for St Patrick's Day!
This is a lot less like a reuben than yesterday's mushroom reuben.
I adapted the Vedge cookbook's recipe for Little Carrots with Chickpea-Saurkraut puree.
Their recipe was for a carrot dish that sits in a bean puree. I made it into a very messy but good sandwich on rye.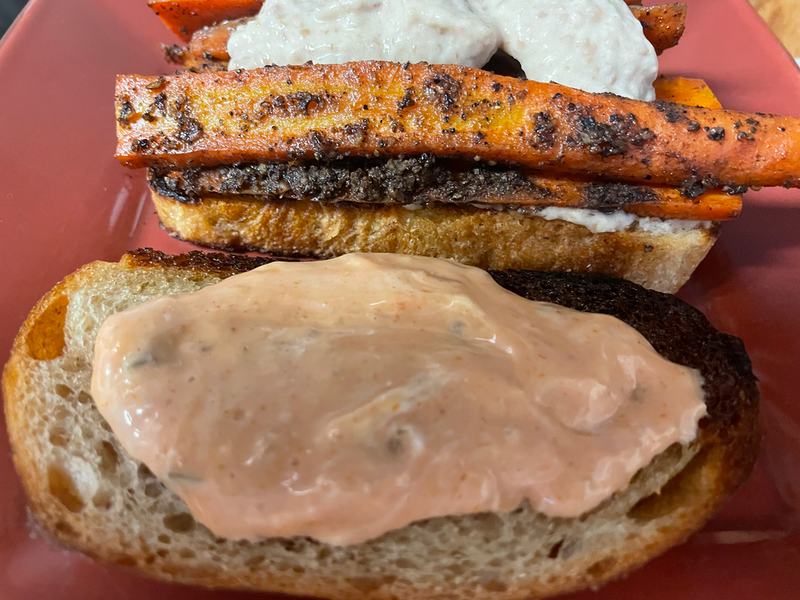 I considered using the same rub as yesterday but figured that carrots have a very different base flavor than mushrooms and so I followed their seasoning guidelines.
For the final assembly, I used the same sauce as yesterday and left out the swiss cheese.
Seasoning Ingredients
2 tablespoons coarse sea salt
2 tablespoons black peppercorns
1 teaspoon caraway seeds
1 teaspoon coriander seeds
1 teaspoon cumin seeds
1 teaspoon fennel seed
1 teaspoon celery seeds
Grind the spices and mix them together.
Puree Ingredients
2 cups cooked chickpeas or one 15-ounce can chickpeas, rinsed and drained
3/4 cup bottled sauerkraut with 2 tablespoons of its juice
2 tablespoons minced fresh dill
2 tablespoons Dijon mustard
1 teaspoon freshly ground black pepper
Add the puree ingredients to a food processor or use an immersion blender to puree.
Additional Ingredients
Four slices of rye bread
Butter for the bread
2 lbs carrots
1/2 teaspoon cloves
2 tablespoons olive oil
2 teaspoons sherry vinegar
Directions
Slice the carrots into plank after removing each end.
Mix 1 tablespoon of the rub with the cloves, olive oil, and sherry vinegar in a medium to big bowl. The recipe called for more salt here but I didn't think it was necessary.
Toss the carrots in the mixture to coat all over.
Lay on a sheetpan and cook in a 300 degree F oven. I used a 212 degree F oven with convection and steam and roasted more slowly.
When the carrots can bend nicely but are neither al dente nor too soft, take them out of the oven.
Grill the rye bread in butter on both sides.
Lay down a slice of bread and cover with a thin layer of puree. Layer carrots on top - I put more puree in between the layers of carrots. Add sauce to the other slice of bread and perhaps some more saurkraut. Put this piece of bread on top of the sandwich.
You'll need plenty of water to drink as this is salty. And you'll need plenty of napkins as it's messy.