Asparagus Pasta
One of the biggest changes to the way I make pasta is that I no longer place pasta in a huge pot of boiling water. I started using a sautee pan and added water and pasta to the pan and brought it to a boil.
Improvement two is that I no longer pour out all the water or rinsed the pasta when it was done. I take the noodles from the water and move them to the other sautee pan that contains my sauce.
Improvement three is that I add some of the starchy pasta water to the sauce to bring everything together.
This recipe from Anna Jones uses just the amount of water you need and cooks the noodles and sauce together to make her "One-pan pea, lemon, and asparagus pasta."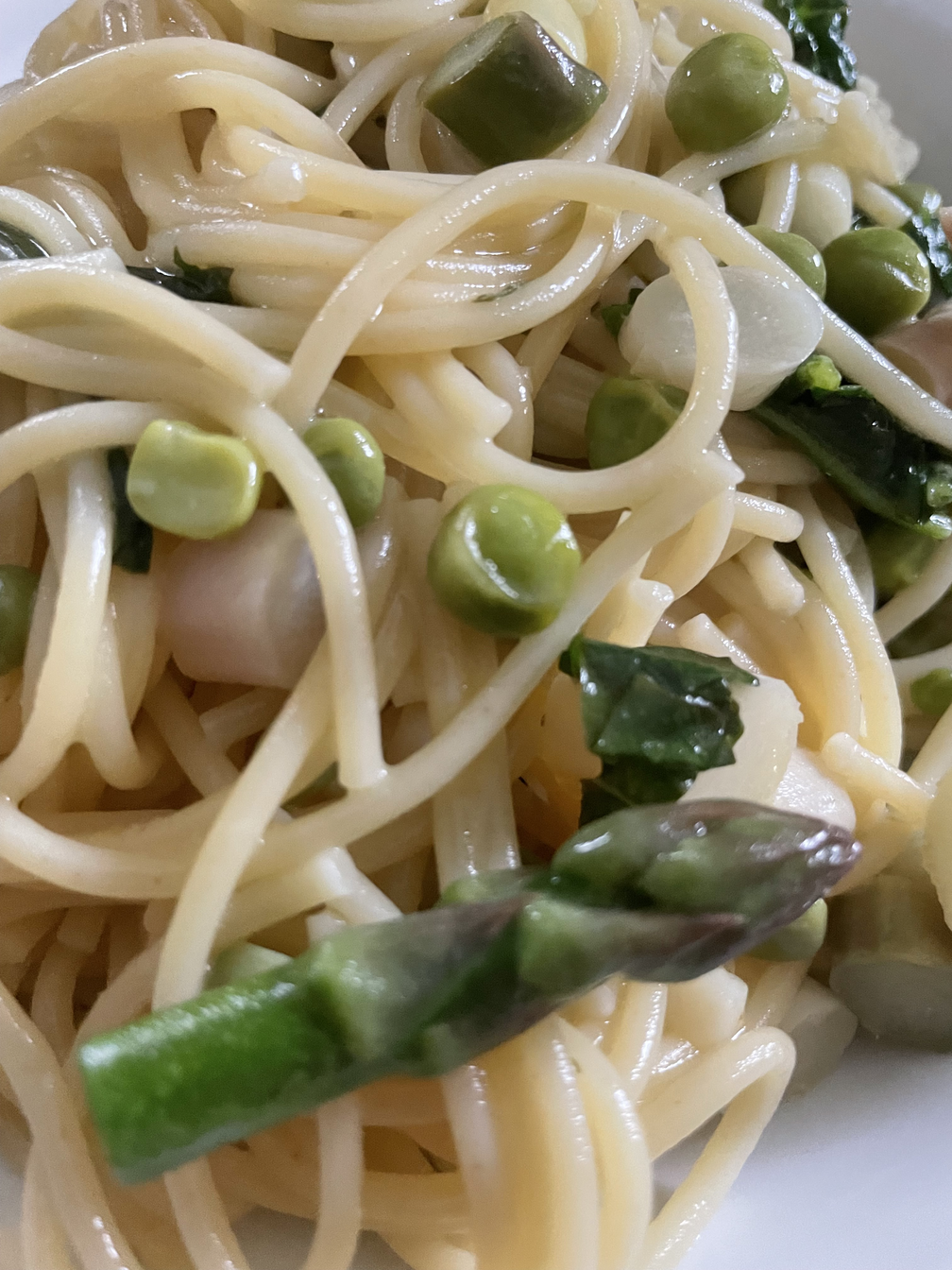 I made a half serving - the original was double this amount. Also, I used spinach but feel free to use watercress, sorrel, or another green.
Ingredients
50g spinach
1 lemon
200 g spaghetti
1/2 liter water
200 g asparagus
1 clove garlic
100g peas
50g olive oil
1/2 teaspoon salt
20g parmesan
Directions
Cut the tips off the asparagus and reserve them. Cut the rest of the usable asparagus into .5cm slices. Zest the lemon. Slice the garlic thinly. Boil water in a teapot or in a separate pan.
Place the pasta, asparagus, lemon zest, garlic, oil, salt, and peas into a pan. I used a pan large enough to lay the pasta down that had a lid - the lid seemed to be unnecessary.
Add 1/2 liter of boiling water and turn the stove on and bring the pasta back to a boil.
From the time it returns to a boil you're going to cook for eight minutes. Every thirty seconds you're going to toss the pasta with tongs. This is what lets the pasta cook evenly as it can't be bubbling away in water.
Cut the spinach a bit to give you something to do while the pasta cooks.
After eight minutes reduce the heat to a simmer and stir in the spinach, asparagus tips, and the juice of half a lemon. You can add basil or mint if you like - I didn't. Simmer for another two minutes.
Serve the pasta and top with parmesan cheese and if you like a little finishing olive oil.
This was so simple and so good.