Sub Rolls
Whether you call them Sub sandwiches, Hoagies, Hero's or Grinders - for me the most important component is the roll. It has to have just the right mix of firmness and softness.
These hit the right balance for me. They aren't as fluffy as a hamburger bun nor as firm as a baguette. They're something in between.
I happened to have sourdough starter so I used it. Feel free to replace it with a poolish (a mixture that is half - by weight - flour and water that you leave out overnight).
This is based on a recipe from King Arthur Flour
Looking for something to fill them with? Check out the Italian Mushrooms recipe for a vegetarian version of a Chicago Italian beef.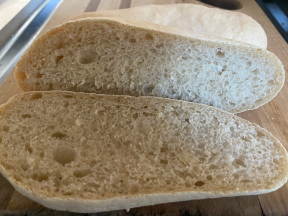 Ingredients
200g sourdough starter

220 g flour

165 g water

8 g salt (1 heaping tsp)

6 g yeast (2 tsp)
Directions
Combine ingredients and knead til smooth

Let rise for 90 minutes to 2 hours folding it halfway through

Divide into six pieces of about 110 g each. Shape into 6 inch cylinders and place on tray with parchment paper or that is lightly greased. Preheat oven to 450 F / 232 C. Let rolls rise 45 minutes.

Bake for 20 minutes. The rolls should smell great, they should have a little color, and the crust should be hard. If not let it go another 5 minutes.